The classic dish of Pasta alla Norma from Sicily, if done well, borders on perfection. The flavors and textures of the simple ingredients come together in a true multi sensory symphony for a wonderful plate of food.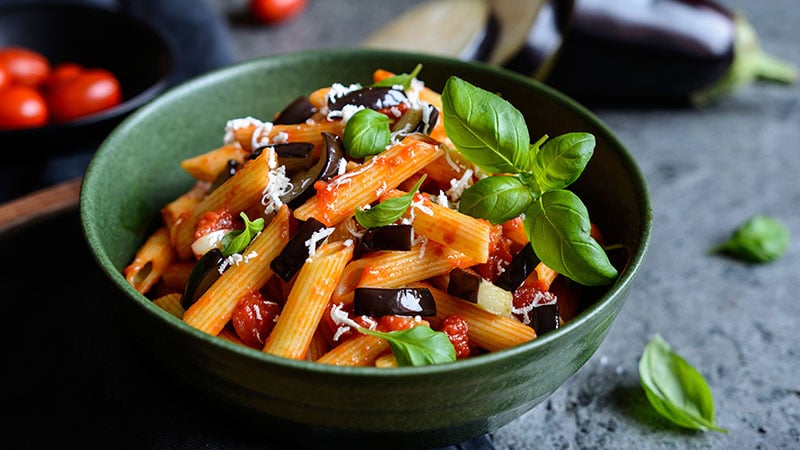 Recommended wine pairing: Etna Rosso Valcerasa
https://www.youtube.com/watch?v=Ypony3v0ICI&t=2s
Etna Rosso di Valcerasa which boosts the crunchiness of the fruit for maximum flavor is the ideal combination to enhance all the flavors of the dish
Servings: 4

Ingredients
320g/11oz dried pasta (you could use penne, fusilli, or rigati)

400g/14oz eggplant


700g/25oz fresh tomatoes for sauce OR 500g/18oz tinned tomatoes

150g/5oz salted hard ricotta, to be grated

Extra virgin olive oil

2 garlic cloves, minced

Basil leaves

Salt

Vegetable oil for frying
Instructions:
To start, cut the eggplants into 4 parts and thinly slice. Heat the vegetable oil in a wide pan to almost boiling and fry the eggplant slices for 1–2 minutes at a time before draining on absorbent paper.

If you are using fresh tomatoes, blanch them in water for 10 minutes and then blend for a smooth sauce.

If you are using tinned tomatoes, there's no need to cook them first, simply blend until smooth.

In a fresh pan over a low heat, brown the minced garlic in olive oil for a few seconds before adding the blended tomatoes and some torn basil leaves.

Cook for 15 minutes over a medium heat, taste and add salt as needed, along with a few more fresh basil leaves. Turn off the heat while the pasta cooks.

Add the pasta to a pot with boiling, salted water and cook to al dente.

Turn the heat back on under the tomato sauce, drain the pasta and add it into the tomato sauce. Stir and season as needed.

Add a portion of pasta to each dish, then add some of the fried eggplant and top with grated salted ricotta and fresh basil to serve.

Get 25€ off your first Wine Club shipment
---
---
---
---
---
Get in touch

Send us a whatsapp message or email us:
---
---
How to Host the
Perfect Italian Dinner Party
---
Bring Italy to you with our free guide to planning and hosting the perfect Italian dinner party!

Find recipes, wine paring recommendations and other tips for a memorable evening, all curated by our team of experts - download today here:

---