Most people have tried this classic Ligurian green pesto at least once in their life, but making it at home allows you to enjoy something very different to store-bought products.
For the best results it's important to use the ingredients as specified, for example replacing the extra virgin olive oil with another type of oil will give you something that tastes good, but is not Pesto alla Genovese!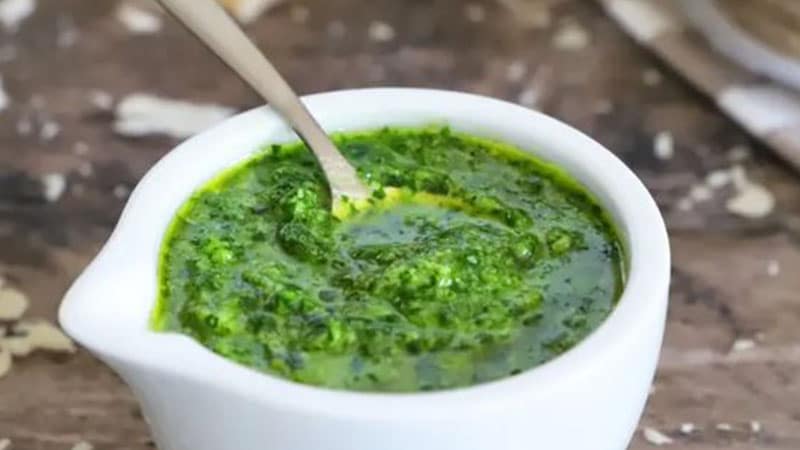 Recommended wine pairing: Pigato
Pigato is a native grape variety that seems to be made deliberately to match Genovese pesto: good flavor and a nose reminiscent of the scent of the Cinque Terre wind.
Servings: 4

Ingredients:
150ml/⅔ cup extra virgin olive oil

75g/3oz fresh basil leaves

45g/2oz Parmesan cheese, grated

30g/1oz Sardinian Pecorino cheese, grated

30g/1oz pine nuts

1 very small clove of garlic, peeled

1 pinch of coarse salt
Notes:
To help keep the mixture cool while being mixed, you can put the blender jug in the fridge for a few hours before starting to prepare the pesto. You can also keep the cheeses in the fridge until needed so they are cold when used.
Instructions:
Rinse the basil leaves and drain them well, if necessary, dry them gently.

Put the basil in a blender, then add the salt, clove of garlic and pine nuts.

Add all the oil and begin to blend intermittently by pulsing the blender several times, to ensure the basil does not get heated up. 

When the mix is smooth, add the cheeses and continue to blend to incorporate into the mixture.

The pesto can be used immediately or kept in the refrigerator in an airtight container for 2-3 days. To keep the pesto fresh, leave a small layer of oil on top of the pesto while in the refrigerator.

Get 25€ off your first Wine Club shipment
---
---
---
---
---
Get in touch

Send us a whatsapp message or email us:
---
---
How to Host the
Perfect Italian Dinner Party
---
Bring Italy to you with our free guide to planning and hosting the perfect Italian dinner party!

Find recipes, wine paring recommendations and other tips for a memorable evening, all curated by our team of experts - download today here:

---