"The most important thing for you to know is that Italian wines are food wines. They are generally more acidic than Californian and Australian wines, so they need to be balanced with food to really be appreciated!"
---
---
Pairing food with wine isn't always easy. Luckily, Roscioli Sommelier Lindsay Gabbard is an expert in it. She's American but has been living in Italy since 2015, working at Rimessa Roscioli – a hotspot for wine-drinkers in the heart of Rome. So if it's turkey wine pairing advice you're looking for, she is ready to help and answer all of your questions.
---
---
---
If it's a weeknight turkey dinner you're preparing for, or you need wine pairing advice in time for Thanksgiving or Christmas, read on. Lindsay has chosen four unique Italian wines for you to help you with your turkey wine pairing.
---
---
---
Italian Red Wine – Nero du Munti
---
First, Lindsay suggests the Nero du Munti, a Corinto Nero. This is a light red wine from Caravaglio, who is a producer on the small island of Salina just north of Sicily. But there's something special about this wine in particular.
---
"This magic and unique grape is almost 100% seedless, which means no tannins. Tannins generally add weight to red wines and dry your mouth out. The lack of seeds in this wine make it super soft and ideal to pair with turkey."
---
---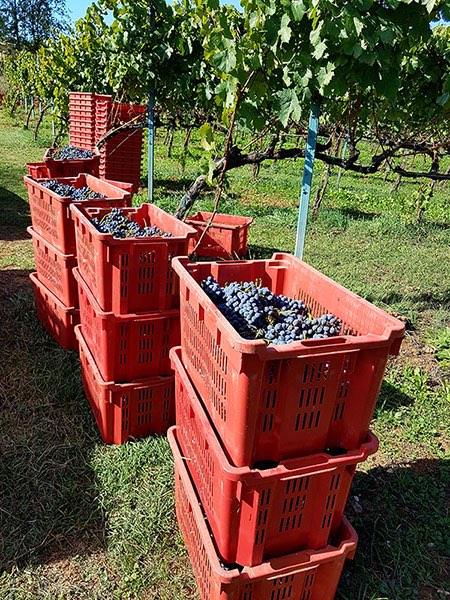 ---
Italian Red Wine – RiNera
---
---
Second, another red wine perfect for turkey is the RiNera. This is a Schioppettino, which is nice and light, but not boring by any means. It's a wine often recommended to red wine lovers who are looking for a summer option.
---
"This particular bottle is made by Ronchi di Cialla. This is a family of winemakers who make wine in the northeast of Italy, near where the border meets Slovenia. But what makes the Ronchi di Cialla family and their wines unique is that they are responsible for saving the Schioppettino grape varietal. They are the first family of winemakers in Italy to make a single varietal wine from this particular grape."
---
Find the wine here in our Wine Club 1 selection.
NOTE: If you're not a member of the Roscioli Wine Club and don't have access to these unique reds, two good alternatives that are easier to come by are a "Gamay" or a light "Pinot Noir".
---
---
Italian Rose Wine – Maria Pettena
---
---
---
The third wine pairing option for turkey, selected by Lindsay, is the Rose by Peirgraziano Sanna. This wine comes from Mamoiada, on the island of Sardinia in Italy.
"The grape used is a Grenache, which is known as Cannonau in the local areas. Piergraziano has made something special. He co-ferments this wine with the skins of a white grape called granazza for about 40 days, which results in a unique orange-rosato wine. It keeps your palate salivating, which is great when eating turkey."
---
Find the wine here in our Wine Club 2 selection.
NOTE: If you don't have access to this particular wine, a good alternative you can find could be an unoaked chardonnay or a Grüner Veltliner.
---
---
Italian Orange Wine – Damijan
---
---
Finally, for the geeky wine crowd out there, the Ribolla Gialla from Damijan is the wine you want to serve to your friends or family.
---
"This is an anomaly for orange wine. It's much smoother than your typical orange wines, which are known to have heavy tannins. So please don't get me wrong…I am hardly advocating you go buy an orange wine for turkey. But this one is smooth and creamy and really something different to show off with, especially over Thanksgiving dinner."
---
---
---
---
---
If you're reading this near thanksgiving, keep in mind that you don't want a heavy wine paired with a notoriously heavy meal. Leave your high alcohol and high tannin wines, like Cabernet or Sagrantino, to warm up with on a cold winter day by the fireplace.
---
---
If you have any questions, please comment on our post below. Otherwise, you can always contact us via phone or email using the links at the bottom of this page.
---
---
How to Host the
Perfect Italian Dinner Party
---
Bring Italy to you with our free guide to planning and hosting the perfect Italian dinner party!

Find recipes, wine paring recommendations and other tips for a memorable evening, all curated by our team of experts - download today here:

---