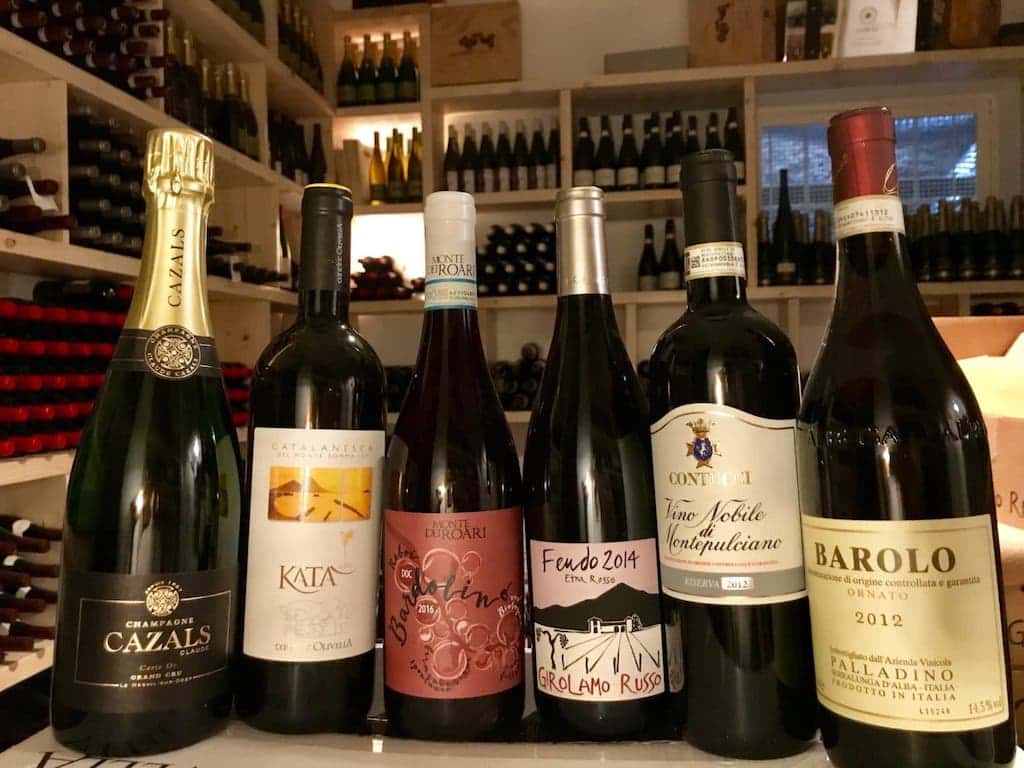 ---
CHAMPAGNE GRAND CRU BLANC DE BLANCS 'CART OR', CLAUDE CAZALS
---
Grape: 100% Chardonnay – Blanc de Blancs
Chardonnay Region: France, Champagne, Oger Mesnil-sur-Oger –Grand Cru
Pairings: good friends, a romantic dinner, and just about anything from lobster, shellfish, white fish, quality cured meats…the perfect way to start an evening.
Drink by: now through 2020
Notes: Dosage of 8 g/liter, harvested by hand, 3 years of aging, 40 years avg age of vines
Description:  And what about Prosecco or Franciacorta? Where are the Italian bubbles? Yes, what about them… Sincerely you know better than us. There is only one reason why we drink Prosecco or Franciacorta and that is because we cannot always afford good Champagne, and if you had a bad experience with Champagne, it can only be because you never had a good one. But what is a good Champagne?
To me after 20 years of drinking bubbles (all of them), being one of the relators of the first Italian guides to Champagne, working as an importer of French bubbles for more than 10 years, I think I can tell something about it (not the truth, but from my point of view) what makes a good sparkling wine. The magic word is balance. Balance between sweetness and dryness, softness and acidity, yeast and soil, cellar and vineyard, vintage and Cuvée, terroir and blends, technology and tradition, small growers and big houses. Champagne is the only wine region in the world where you can appreciate a small grower of 10,000 bottles and a 4-6 million bottle of good vintage of Dom Perignon. And so Champagne is a blend of contradicting elements. And the pleasure and complexity of it are there to make you doubt of all the restricted and Draconian rules that you always thought winemakers should follow.
So we have a beautiful woman, Delphine Bonetti, that is a perfect synthesis of all these issues. Her vineyards, just between Salon and Krug Clos du Mesnil, two of the most sought after Champagnes in the world, the most noble soil, the famous 'white chalk', that gives a unique salty finish to the wine. Citrus, spices, bread crusts, salt, acidity, and warm coolness, and soft harshness, a straight roundness and light complexity…a perfectly balanced blend of the mineral and citrus soil of Mesnil and the soft spicy fruit of Oger. This wine is a beautiful oxymoron. To appreciate it, drink a glass. To understand it, drink 2. And to love it, finish the bottle. Share it with your better half, because wine like love can be a perfect pairing of oppositions. Match it with anything, dry, salty, fatty, you name it
CATALANESCA 'KATA' 2016, CANTINA OLIVELLA
---
---
Grape:100% Catalanesca
Region:Mt. Vesuvius – Sant'Anastasia (Campania)
Pairings:fresh cheeses like goat or buffalo mozzarella, grilled fish, scallops, and most seafood.
Drink by: now or best in 3 years
Notes: 24+ months on lees and 3-6 months in bottle, 32 year old vines, 15,000 bottles
Description: There is a moment that you have to go beyond the wine itself. Where the story behind the wine is more important than the tannins, the acidity, the aromas, the complexity of the wine itself. I've always fought against this idea that you give value to a wine based on the story of it. But life and pleasure is about exceptions from the rules. Sometimes wine can be a fully deep archeological experience, literally. In 1931, a simple farmer was digging fertile and dangerous soil on the slopes of Vesuvius and he found a stone. He thought about a simple stone, but the shape of it declared that it was a column. He called a local archeologist and wrote a letter to Mussolini asking for funding to continue the work because there might be a huge site to be discovered. Unfortunately, this was also the time of the excavation of Pompei and that letter never reached Rome because it was hidden by the chief of the site of Pompei. After 70 years in 2001, that letter was found…
Ciro was waiting for us at the small square of Somma Vesuviana, a little village suspended between the last eruption of the volcano in 1945, and the next one that will come sooner or later. Before going to the vineyard he said I have something to show you. He brought us in a small road into a private spot and in front of us…a HUGE archeological site, which was likely the villa from the emperor Augusto that later became the largest winery of its days time. Amazing frescos, perfectly preserved, statues of Dionysus, Bacchus, wine and dancing vestals. The archeologist brought us on a private tour of this amazing site which proved the magnitude of importance of this spot from 2000 years ago. After a stereotypical lunch in the vineyards of pasta, fresh tomato sauce, buffalo mozzarella, and him talking about his wine. Catalanesca is the variety, Vesuvius is the soil, and Romans are the archeological heritage of it. A 50 year old vineyard, a child of milinary tradition, that gives a wine that smells of the fresh apricots and melon, sweet flowers, and tastes of the smoky flavor of the volcano. Despite all the oaky Chardonnay, all the fruity Sauvignon, all the cheesy Pinot Grigio, I prefer the simple complexity of the truly deep Catalanesca of Monte Somma. Serve chilled, but not too much, on a terrace of your fancy villa facing the volcano (any one) in front of the sea, if possible the Mediterranean with some oysters La Rochelle, raw red prawns carpaccio with Amalfi lemons. Or if this is all too far away, drink it on your patio with your closed eyes and imagination.
---
BARDOLINO 2015, MONTE DEI ROARI
---
---
Grape: Corvina, Rondinella, Corvinone
Region: Garda (Veneto)
Pairings:  Tortellini, light meat dishes
Drink by: now
Notes:  Biodynamic, not filtered, no added sulfites, aged in cement eggs, 20-40 year old vines, 5,000 bottles
Description: Wine tasting is not a race. It is not a matter of finding the best…no winner or loser. No jury can determine for you at a photo finish, which will be the best or the winner. And the best for what?  What is wine without you and your friends sharing an experience together?  And what was wine meant for?
Keeping it in the cellar, waiting for the perfect moment that will never come. A label to show to your friends? Wine, please don't forget, is sometimes just about drinking them, and now. It's not all about Barolo, Super-Tuscans and 100 point Parkers… Wine is also about simple light moments. Not fruit juice with alcohol, but that complex simplicity that you have in those bottles, that fulfills your palate with meaningful, light thoughts. Sometimes a wine can be fruity and easy drinking without being 'cheesy' – and that is what this Bardolino is about. Small little strawberries with a nice salty finish. With Paul Giamatti I would call this wine 'quaffable', if this didn't sound insulting, because it's more than that. It's the essence of a winery that makes straight and honest wines with no fake stories, no selected yeasts, no fertilizers, no sulfites…just grapes and soil. Drink it now meanwhile you are reading this, on a soft late afternoon, when the weather is not too cold or warm, and the sun is balancing a fresh autumn breeze and your friends are with you. No need to discuss the wine, it will soon become part of the group…one of those quiet friends that you can rely on.
ETNA ROSSO 'FEUDO' 2014, GIROLAMO RUSSO
---
---
Grape: Nerello Mascalese (small amount of Nerello Cappuccio)
Region: Randazzo - Etna (Sicily)
Pairings:  Steak, aged red tuna fish, fried anchovies or fish and chips, or salted cod or mackerel.
Drink by: now until 2024
Notes: 3700 bottles, organically cultivated, 15 year old oak barrique barrels
Description: Winemakers...the biggest liars in the world (well possibly right after sommeliers). A big circle of lies. The soil, the terroir, the efforts, the traditions, struggling against nature and marketing. Here are some tips to recognize a lying winemaker.
• To us, the most important thing is defending tradition.
• We don't care about marketing.
• I make wine for myself, not for the market
Everything is a logo nowadays, even the non-logo (biodynamic, natural, etc). If you have something to sell, you are a liar. BUT...sometimes I like to believe, I need to believe, that there is something true in all of this. This is how Guiseppe Russo presented himself:

• I didn't care about wine when I was younger.
• Countryside and farming represented suffering to me.
• Most of what is said about Etna is bullshit.
• 'No please, don't ask me to speak about the minerality in the Etna wines'
• The more I do this job the less I know how to do it...
...and other anti-marketing statements. And at the end, when I taste Russo wines, at the moment they are simply the best of all the Etna wines. A beautiful balance between 'minerality' (whatever that means) and fruit, power and elegance, complexity and drinkability, deep yet quaffable. Yes, I know, Guiseppe doesn't have a fairytale to tell...no passionate family tradition, but they don't care: the volcano, the 90 year old plants, the unique micro-climate, the 900 year old history...they just don't care about marketing, about journalist expectations, because they were there before us and will be after us. Drink it with venison and a berry or wild forest fruit reduction, facing a mountain.
VINO NOBILE DI MONTEPULCIANO 2013, CONTUCCI
---
---
Grape:80% Sangiovese (Prugnolo Gentile), 10% Canaiolo Nero, 10% Colorino
Region:Montepulciano (Tuscany)
Pairings:savory dishes like stews, roasted and grilled lamb, steak, grilled mushrooms, good quality salami and hams, medium aged cheeses.
Drink by: now until 2025
Notes: 24 months in 20hl barrels and 6-8 months in bottle, 30,000 bottlesf
Description:Tradition, history and heritage – 3 pillars that define the foundation of Montepulciano and Contucci. When Andrea Contucci walks you around their home (palace), vineyards and cellar, you sense his understated pride, nobleness and integrity without any sense of pretentiousness. Here you find a quality wine region dating back before 1000 AD, 1010 years of single-family ownership, 65 years of cellar work by the most passionate Italian man Adamo (80 years old now), a room of frescoes dating to 1701, a cellar constructed into the original walls of Montepulciano from the 13th century, traditional winemaking techniques with large barrels (not trendy French barrique), no technology or cellar gimmicks to make for a modern style of wine, a higher percentage of Prugnolo Gentile to give more traditional flavors of the region (never mixed with international grapes). What more do you want from a wine? Skip the highly marketed and often overpriced Super Tuscans and just pair this wine with some flavorful, authentic cured meats or a savory dish of beef, lamb or venison and you'll be feeling as 'noble' as the Nobile.
---
BAROLO 'PARAFADA' 2013 , PALLADINO
---
---
Grape: 100% Nebbiolo
Region: Serralunga d'Alba (Piedmont)
Pairings: Parmigiano, aged cheeses, risotto with truffles, prime rib, wild game and anything with nice proteins and fat.
Drink by: now through 2025 or possibly longer (best to hold for a few years)
Notes:  12 months in large barrels, 12 months in smaller barrels (French and Slovenian oak)
Description: A compass…everyone has one. The web is full of them. Wine Advocate, Wine Spectator, TripAdvisor, Michelin Guild, critics, Academy and Pulitzer Awards. We all need them desperately. Alone in this complex world we need someone to tell us what is good and bad, until we will find our own way, and free our own palate and our sense of taste. But this is possibly a chimera. As that anthropologist said, our taste is culturally and sociologically determined so you cannot be alone in your judgment. You have to be part of a group, registered in a wine club. That's how we should do wine scouting. Asking friends suggestions of where to go and what is the fancy wine at the moment, experts, colleagues, wine journalists. In the 90s, Robert Parker was my compass. In the 2000s, I moved to the niche of the snobbish wines outside the mainstream, known only by a small group of elected people. But only in the last few years after 25 years of tasting, I realized that I could become the Robert Parker of myself. So I began to risk tasting wines that were not registered in any guide, not spoken about in any snobbish wine club, and lots of them were terrible. But sometimes, you can find a diamond in the rough and that is how I met Palladino. They shocked me for the purity of their style. Every cru perfectly determined. The flowery softness of the Parafada…the gentle harshness of Ornato and gothic balsamic flavor of San Bernardo. Each one expressing perfectly their terroir. So I started to tell this to everyone, and they couldn't place it since it wasn't in the guides etc. It was a wine with no compass. And I realized that day that the only way to know wine is to find the Parker in you. And by the way, in the last 2 years Palladino has won every possible award for their wines, but I don't know if I have to be happy for this.
Parafada gives you an elegance that can be difficult to find (in youthful Barolo). A full bodied wine of roses and violets, blackberries and cherries, balsamic flavors and more to come as this ages. Decant this wine or open a few hours before drinking.
---
---
Wow…the first time I tried this, it blew my mind and senses. What a unique blend of flavors in a simple aromatic olive oil. Actually nothing simple about it apart from how to use it. An olive oil that smells and tastes of lemon, orange, mushrooms, spice, and herbs. So versatile and adaptable to so many dishes. But be careful…the flavor is quite strong. For a plate of pasta, one spoon is more than sufficient. The ideal shape of pasta is tagliolini. Remember every time to shake well before serving. Even a few drops on grilled bread makes a beautiful bruschetta.
---
This for us is the most important and valuable part of what we do – allowing YOU to find your own way to describe the wines. No one here is a professional sommelier, or a winemaker, or person who was studying wine – they are just like you, and were perfectly capable of coming up with accurate descriptions. Close your eyes, get rid of all the stimulus around you and just relax. Most importantly…don't worry about being 'right' and you always will be.
---
---
How to Host the
Perfect Italian Dinner Party
---
Bring Italy to you with our free guide to planning and hosting the perfect Italian dinner party!

Find recipes, wine paring recommendations and other tips for a memorable evening, all curated by our team of experts - download today here:

---