Passatelli is an ancient type of pasta made with breadcrumbs, Parmesan and lemon zest for a special dish of the Emilia Romagna tradition!
The dough can be tricky to work with so it's important to use very fine breadcrumbs or the dough will break down when it's cooked, and you will need a potato masher or ricer to create the correct texture.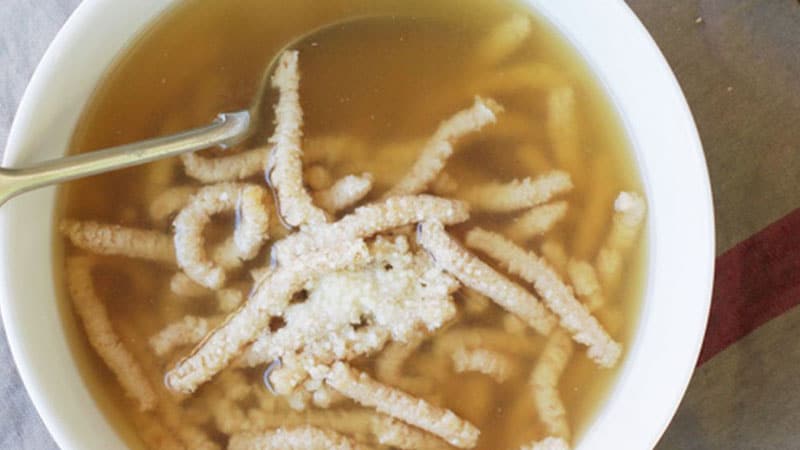 Servings: 4

Ingredients
130g/5oz fresh breadcrumbs

130g/5oz Parmesan cheese, grated

3 eggs

Zest of ½ a lemon

Nutmeg 

1 liter hot meat broth or stock
Instructions:
Mix the breadcrumbs with the grated Parmesan and lemon zest in a bowl.

Beat the eggs in a separate bowl with salt, pepper and a little grated nutmeg. Pour the egg mix into the breadcrumbs and mix with a spatula to bring the mixture together into a ball.

Turn out the dough onto a smooth surface, and knead until you have a smooth ball. The dough should be quite firm. Wrap it in plastic wrap and put it in the fridge for around 30 minutes.

Once rested, remove from the fridge and divide the dough into four.

Put the pieces of dough into the potato masher one at a time and press firmly, until strips of the dough come out. 

As you push the dough through the masher, cut the pieces of pasta dough with a knife when they are around 4-5cm long and place on lightly floured baking paper.

When all the dough has been made into pasta pieces, they are ready to be cooked.

Bring the meat broth to a boil in a pan, then add the Passatelli along with a pinch of salt. Mix gently and cook for about 2 minutes.

Wait for the Passatelli to come to the surface, then remove them with a slotted spoon and put into soup bowls. Depending on the size of your pan, you may need to cook in batches.

Once all the Passatelli are cooked, pour a ladle of broth over the pasta pieces in each bowl and serve with more Parmesan cheese grated on top.

Get 25€ off your first Wine Club shipment
---
---
---
---
---
Get in touch

Send us a whatsapp message or email us:
---
---
How to Host the
Perfect Italian Dinner Party
---
Bring Italy to you with our free guide to planning and hosting the perfect Italian dinner party!

Find recipes, wine paring recommendations and other tips for a memorable evening, all curated by our team of experts - download today here:

---