The dumplings in broth or Knödel are the flagship dish of South Tyrol. Every family has their own version of these hearty dumplings, but here we have a classic recipe, flavored with Speck, a type of smoked bacon.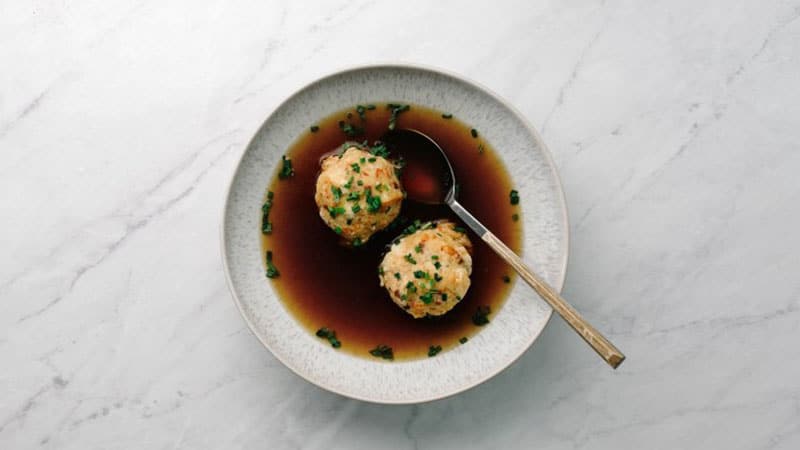 Recommended wine pairing: Schiava
These dumplings in broth come in many variations, which go very well with the Schiava, a native vine also known as Vernatsch that produces delicate wines in the mouth and a greedy nose of berries.
Servings: 4

Ingredients:
200g/7oz stale white bread, diced into small cubes

100g/3oz thick-cut Speck, diced into small cubes

½ onion, finely chopped

2 eggs

20g/1oz butter

20g/1oz flour

100ml/½ cup milk

1 tablespoon chopped

par

sley

 
To Serve:
Notes:
If you cannot find Speck, you can use cubes of smoked pancetta or bacon instead.
When forming the dumplings make sure your hands are moistened with water to avoid the mixture sticking to your hands. 
Instructions:
Sauté the finely chopped onion in a pan with the butter until soft, then add the diced Speck and cook for a further two minutes. Take off the heat and allow the onion and Speck mix to cool. 

Combine the diced bread, eggs, flour, milk and parsley in a bowl, along with the cooled onion and Speck, season with salt and pepper and mix everything well. Let the mixture rest for at least 30 minutes.

Once the mixture has rested, you can form the dumplings. Using your hands, take small pieces of the mix and form them into balls around the size of a small orange. Ensure each ball has a smooth surface, free of cracks. As you form the dumplings, put them on a tray or plate with a little flour which will help them stay together when they are cooked. 

When all the dumplings are ready, add them to a low, wide saucepan filled with boiling salted water for 10-12 minutes. Drain them with a slotted spoon before serving the dumplings on serving plates, to be accompanied with hot beef broth and plenty of chopped chives.

Get 25€ off your first Wine Club shipment
---
---
---
---
---
Get in touch

Send us a whatsapp message or email us:
---
---
How to Host the
Perfect Italian Dinner Party
---
Bring Italy to you with our free guide to planning and hosting the perfect Italian dinner party!

Find recipes, wine paring recommendations and other tips for a memorable evening, all curated by our team of experts - download today here:

---