To understand and arrive at its origins, one must go back in time, before 472AD, to the neglected side of the volcano Vesuvius. We're near Naples, on the north slope of Vesuvius, in a region called Somma, which was forgotten by nearly everyone, with all the attention and funding being directed to the excavations on the other side of the volcano at Pompeii and Herculaneum.
On this other slope of Vesuvius in the 1930's, a farmer, a winemaker, digging to plant vines continued to hit 'stones' as they dug down into the soil. The discovery of what turned out to be huge columns, happened by sheer serendipity and magic, as many of the best archeological discoveries are. One can only imagine how the farmer felt on realizing the wonder of what was below their land.
But from there, the story takes a sad turn. Obviously a proper dig and excavation was needed. A request was sent to the government, run by Mussolini, but the letter was hidden from him by the boss managing the Herculaneum excavation - he simply was desperate for all the funding to keep being sent to his project.
The letter was so successfully hidden that it was only uncovered in the late 1990's. It was not until 2001, when the University of Tokyo pulled an unprecedented move and bought the rights to the dig site, with the promise that it would be donated to the city upon its finish that the cumbersome and slow dig began. Work was done at the site sporadically as the people running the excavation could not dedicate all their time to it.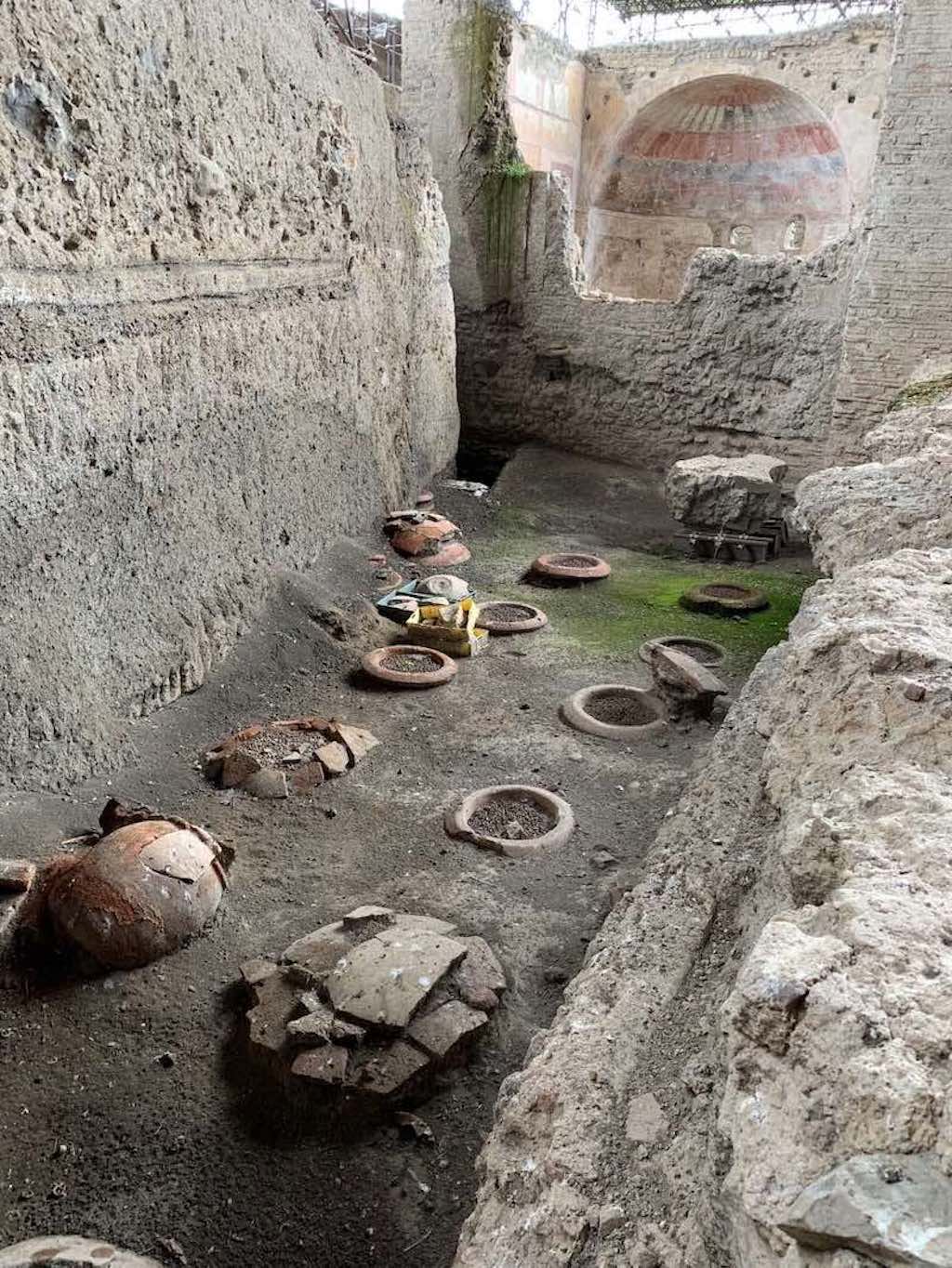 As the excavations went on, what emerged from the soil was part of a huge villa, equal to anything you can see in Pompeii. It was pristinely buried by the huge eruption of Vesuvius in 472AD - an unimaginable sight. It's believed that only 10% of the villa has been fully discovered so far, yet the area uncovered is massive. It even houses a full winery inside of it (the oldest winery one will ever see) which was possibly capable of an annual production of the equivalent of 100,000 bottles or more, all of which was stored in buried amphorae. The experts believe that, if they could keep digging below the 7-story apartment complex which has impeded their ability to extend their excavations, they would discover nearly 30 rooms of amphorae.
Touring the volcanic vineyards of Vesuvius with Cantina Olivella


Fast forward to 2019, when Alessandro and I were with Cirò from Cantina Olivella and some wine club members, on a glorious tour of his breathtaking vineyards which are juxtaposed between the highest point on Vesuvius with panoramas of the Mediterranean sea. In the vineyards, he shares his biodynamic practices and ungrafted vines - a huge benefit of volcanic soils. We munch on the wild arugula growing amidst the rows of vines. Lunch ensues. There are 6 of us, but enough food for a village. The buffalo mozzarella are the size of softballs, and there's one per person. The pan of pasta al pomodoro (his tomatoes are out of this world) was nearly 3' in diameter.
We indulged, sipping the Catalanesca to wash down the endless array of local delights. And naturally we discussed wine, the archeological dig site, Texas, politics and all.
An idea is born
Mid-lunch, a light goes on in the mind of Alessandro. Being the provocateur that he is, swirling the wine unconvinced by a je ne c'est quoi in the glass he says to Cirò; "This Catalanesca just seems to lack something. I mean it's nice, our clients love it, but have you considered some maceration to give that something that seems to be lacking in the texture?" Cirò goes into the discourse that many go into...the market, they won't understand it. We sense him start to close up, defending why he has to clarify and filter his wines. But we equally sense that this isn't what he wants to do but rather what he feels he has to do - the conundrum many winemakers face.
Alessandro trys again; "What if I take the risk off your shoulders? Let's risk together and try... And, what about going back to the traditions of the region and buying an amphora for the vinification?" Cirò sighs and lets out a deep, pensive breath... After a few more glasses, the decision is - dai, let's do it. Cirò takes a risk and buys an amphora (a pricey move) and we wait....
Our baby InSumma arrives
It's 2020 and we're at Rimessa, when Cirò confirms that the wine is bottled and ready for its debut. You can tell from the smirk on his face that he's impressed, but all pride is put aside by everyone. We pull out the Zaltos glasses, as this is a huge moment, our baby is being delivered. With intense anticipation, along with the feeling that we are obliged to like it in the air all around us, we swirl and smell. Wow! It's astonishing and most importantly, since he didn't add any sulphur, it doesn't have those off-putting aromas, at all (fheew). We then taste the wine and around the table our eyes light up with an elated feeling as we confirm our contentment.
Actually, our feelings were way beyond contentment. This was a clean wine but more importantly, it was born from a risk, a dream, and it far exceeded our expectations. By the way, Cirò is now obsessed with that amphora!
That day at lunch in 2019 I gave the name 'InSumma' to the new wine. Cirò's previous wine was called 'Summa' but loved the phrase insomma which translates loosely to 'whatever', or 'I mean', or 'in sum' so the new name was a tribute to where we were and a play on this phrase.
Insomma - in sum...
InSumma is the exact synthesis of what our wine club aims to achieve. In that moment, we traveled back in time and were ultimately able to recreate the future, in the same way we as humans represent memories of the past through stories and ideas, which will be remembered at a future time.
Ultimately this wine gives life to lost stories, a moment and a villa which was encrusted and sealed away in time. It is a representation, a approach we took, to enliven an ancient, dusty archeological museum and to create a real, living sensoria experience. Bernard Berenson, famous Renaissance art critic, said art should give life-enhancing ideated sensations, which occur when the capacity of the object allows us to realize its entity and live its life. He would also argue that words are nothing more than vehicles attempting to take us from one point to another, but they are never a substitution for the actual experience itself.
The sensorial journey available to you with this wine requires a Dionysian approach. It needs no classification, no definition, no categorization, no peremptory descriptions which in turn destroy everything that it is about - words are never the experience. In the same way that life is ever-evolving, simultaneously looking forward and back, so is the essence of this wine. In the same way that your vacation to Rome was being planned and created before you arrived there, and also lives on in the memories you share about it, we hope the experience of this wine takes you back in time and will be recanted in future memories.
A huge thank you to Cirò and Cantina Olivella, as well as Ferdinando De Simone, who gave us the opportunity to tour this private location, as it is off-limits to the public.
Pictured: Alessandro Pepe (left) and Cirò Giordano (right)
Winemaking notes
For those who insist to know, the grape is Catalanesca (a grape with possible origins to Spain 'Catalan', brought over when Naples was under Spanish rule), and it's vinified completely in amphora - with no clarification, no filtration, no sulphur added, from un-grafted vines and volcanic soil, farmed biodynamically/organically. Only 990 bottles are made exclusively for the Roscioli Wine Club. This wine will give a volcanic, Dionysian shake up to your preconceived ideas of what 'natural' wine is.
Interested in this wine? It's exclusively available to our wine club members. Reach out to wineclub@nullrimessaroscioli.com if interested in purchasing.
---
How to Host the
Perfect Italian Dinner Party
---
Bring Italy to you with our free guide to planning and hosting the perfect Italian dinner party!

Find recipes, wine paring recommendations and other tips for a memorable evening, all curated by our team of experts - download today here:

---