The Carbonara recipe is among the most appreciated Italian pasta specialties in the world: a simple dish, prepared with equally simple ingredients, which, although cannot boast ancient origins, is nevertheless very traditional, representing the perfect synthesis of a culinary sensibility grown over the centuries in a specific geographical area.
This sensibility makes the pasta Carbonara recipe one of the symbols of the Roman and, more generally, Lazio regional gastronomy.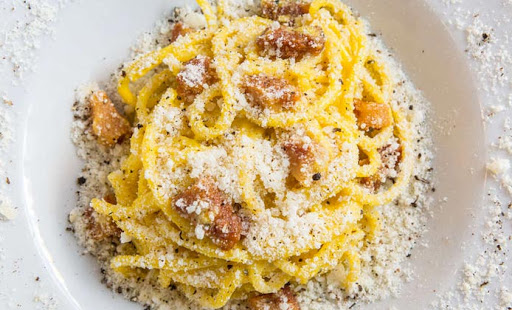 Prep Time: 15 mins
Cook Time: 10 mins

Servings: 2
Ingredients
1 whole egg + 1 egg yolk
70g (3 oz) Parmesan cheese, finely grated
20g (1 oz) Pecorino Romano cheese, finely grated
Black pepper
100g (3.5 oz) Guanciale
180g (6 oz) pasta - ideally Spaghettone
Instructions:
Clean the Guanciale (pork cheek) by removing the skin and the black pepper coating - the pepper will burn and become bitter if left on the meat.
Cut the Guanciale into 1 cm strips and then dice into small pieces, aim for around 9-10 pieces per person.
Heat a large pan - it needs to be very hot. It also has to be nonstick.
Add the guanciale pieces to the pan, keep moving the pan so the meat doesn't stick to it. Cook the guanciale until the pieces are crunchy on the outside and tender inside.
Remove the guanciale pieces from the pan, set aside in a bowl.
In a pot of boiling salted water (not too salty), cook your pasta until al dente.
In a large bowl, beat the whole egg and extra egg yolk together.
Add ½ spoon of the grated cheese per person and a good twist of black pepper to the egg mix and blend fast with a spatula or spoon.
Add 1-2 spoons of the pasta cooking water to the bowl and mix well, until you have a thick, homogeneous and creamy consistency. Add a little more cheese or water if needed.
Drain the pasta and add it in the bowl with the sauce, mix well.
Add more Pecorino cheese as needed/to taste and serve immediately.

Get 25€ off your first Wine Club shipment
Subscribe now to get your coupon code:
---
---
---
---
---
Get in touch

Send us a whatsapp message or email us:
---
---
How to Host the
Perfect Italian Dinner Party
---
Bring Italy to you with our free guide to planning and hosting the perfect Italian dinner party!

Find recipes, wine paring recommendations and other tips for a memorable evening, all curated by our team of experts - download today here:

---