Cesanese Pallò, Falcone 2020


Tip: You can enable subtitles using the CC icon along bottom of the video player.
Pairings
Meatballs with tomato sauce
Fried meatballs 
Roman pastas (Cacio e pepe, amatriciana or carbonara)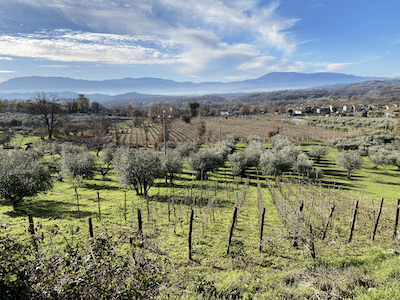 ---
help spread the love this fall

If you're not yet part of our Italian wine club, we're currently accepting new members this Fall.

---
If you're already a member consider referring a friend - you'll save 20% on your next payment, and they'll save 20% on their first payment!
---
---

Exclusively for Roscioli Wine Club & Rimessa Roscioli
---
Our collection of eno-gastronomically and over-indulged superheroes - prints, accessories and more...
---

Winemaker Notes


Sapling vines of about 10 years of age obtained from mass selection of the oldest clones of the entire area planted on rocky/calcareous soil. Very high planting density, about 9500 plants per hectare. Between the rows there is a spontaneous herbage composed of indigenous aromatic plants that contribute to the development of biodiversity. Green manure is practiced in alternating rows with seasonal crops.
The treatments in the vineyard are limited to copper and sulfur only where necessary. In the cellar, fermentations are triggered only by indigenous yeasts. After soft pressing, the must remains in contact with the skins for 30 days. Fermentation and aging in amphora for 1 year.  Organic and biodynamically farmed.

The Story


We absolutely fell in love with this wine!  Marco is considered 'crazy' by his neighbors as he is the only one experimenting with amphorae.  This amphora is stored above ground and quite round.  Unlike most Cesanese, it is elegant, clean and refreshing.  This region has only really started bottling wine in the last several decades so what he has achieved in remarkable.  Loving it as much as we did, we bought the entire amphora.  

"The culture of natural wine is what will allow us to preserve the planet's ecosystem in the coming years. After all, we are already trying to go back", underlines Marco Falcone, infectious disease specialist and winemaker in Piglio, just 1 hour east of Rome.
A desired and necessary commitment also in the world of wine because the resources "at our disposal are what they are".
Very high density sapling vines, green manure between the rows for soil fertility. Considered a heretic due to the contrast of his ideas with the local tradition regarding viticulture, pruning and the use of amphorae, today he spends his energies seeking the perfect balance between all the components of the environment.
Last philosophical thoughts.... If it is true that man and vineyard must coexist, it is equally true that man should not be vegetalized, much less anthropized the vine (says the biodynamic winemaker who also believes in vaccines, as many of his natural wine friends shun his 'Green Pass').   While biodynamics believes in not putting any conventional treatments on the vines, Marco has seen lungs of many Covid patients and says I'll do whatever I have to not to have that horror in my life.  The idea is that humans are humans and plants are plants.


Click the region and winemaker below to find related wines: