Gifts & One-time Purchases
Gift an Italian experience to friends, family, colleagues (or even yourself)
Please note that we are not currently shipping to warm-weather countries during the summer months. This is done to avoid damage to your wines from the heat during transit. Our full shipment will be in the Fall. If you live a cool-weather country, please get in touch to review shipping options prior to ordering.
Perfect for anyone who loves wine, Italy and Italian culture
FREE SHIPPING to the USA & EU
(we also ship to most other countries)
6 bottles per shipment
(Prefer all 12? Select Qty 2 in the cart)
One-time purchase and non-renewing
Comprehensive wine notes and videos available by scanning a QR code on the bottle
Personalized gift announcement to print or email - upon request
---

"When the box is delivered we can't wait to open it and dive in! So many different types of wines, some I've never heard of. It is fun to try something new, something I would never see on a shelf and try. Then the classics as well. The videos are fantastic. You learn about the grape, the vineyard, the barrels, soil, etc. Each one has a history, and each wine maker is so passionate about their wine."
Did you know you can also give our Italian Wine Club as gifts with an ongoing subscription?
Choose your selection - you'll receive a mix of 6 bottles
Prefer all 12 bottles? Select Qty 2 in your cart:
*bottles are only examples - selection could be different



Wine Club 1
RESERVE YOURS FOR FALL SHIPPING
(except Northeast USA)

219€ per 6 bottles
For everyday wine lovers.

Featuring bottles of organic wines that pair easily with food and can be enjoyed immediately.

---
Wine Club 2
RESERVE YOURS FOR FALL SHIPPING
(except Northeast USA)

289€ per 6 bottles
For wine enthusiasts.

This premium wine selection includes more full-bodied bottles worthy of a few years kept in the cellar.



These wines arrived to the USA via the first ever commercial sailboat, reducing carbon emissions by 97% over cargo ships which are 20x better than airplanes.

This is the first time this has happened in 140 years!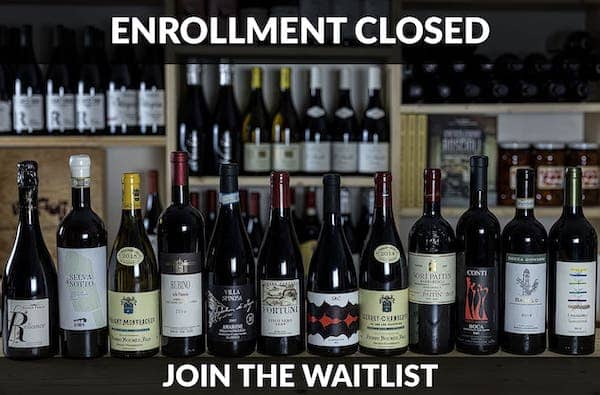 Collector's Club
RESERVE NOW
500€ per 6 bottles

For wine collectors.

An exclusive selection of important and hard-to-find French and Italian wines (more Italian) to stock up your cellar with. Wines will often be from slightly older vintages and ready now through 10+ years.

Interested? Click here to join the waitlist:


---
---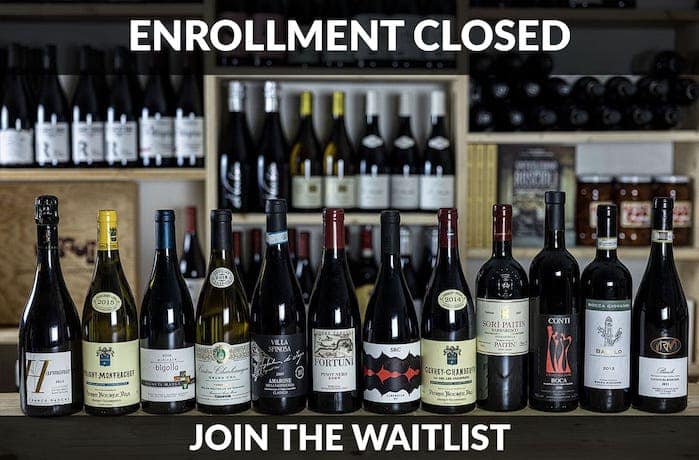 Legend's Club
RESERVE NOW
1000€ per 6 bottles
For those serious about fine wine.


A world-class selection of some of the most important names in fine wine. Our most premium selection, curated with collectible and legendary wines from the best vintages, predominately from France and Italy.

Interested? Click here to join the waitlist:


---
---
How to Host the
Perfect Italian Dinner Party
---
Bring Italy to you with our free guide to planning and hosting the perfect Italian dinner party!

Find recipes, wine paring recommendations and other tips for a memorable evening, all curated by our team of experts - download today here:

---